BlueHost Review Overview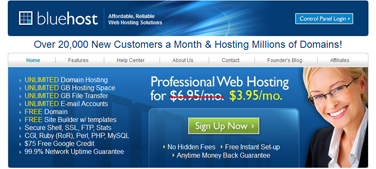 Bluehost has been providing web hosting to businesses and individuals since 1996. In that time they have grown to be one of the largest hosting companies globally. They strive to provide outstanding services at an affordable price. By carrying this out they have trown substancially each year, while continuing to upgrade their services at no additional cost to customers.
Bluehost offers one basic hosting package with all the unlimiteds you would expect from any top shared hosting company. There are several upgrades available, including their popular "Pro Package" which is geared toward online businesses and e-commerce websites that need extra security. Of course, their basic hosting package is more than enough for most every personal website or static informational page.
BlueHost Review of Support
With such a large company, Bluehost has to emphasize quality customer service and support. They offer 24/7 toll free support by way of phone, live chat, and e-mail. Having so many customers hosted, we expected extended wait times when contacting support. To our surprise, the wait wasn't much longer than we got from most other hosts. Customers can feel at ease knowing that Bluehost employs enough people to support its clientele.
BlueHost Review of Business Hosting
Although it is significantly more expensive, Bluehost's Pro Package is one of the top business and e-commerce plans on the market today. With over $200 worth of extra features, it is truly the all inclusive plan for a business page. It includes more server resources to handle higher traffic, an SSL certificate for secure credit card transactions, a site backup tool, and several other features.
BlueHost Review of Control Panel
As is the case with most other hosts, Bluehost offers the popular cPanel control panel. With it's slew of features and incredible ease of use, it is a wonder hosting companies would offer anything else. cPanel offers unmatched user friendlyness in a neat package that is unrivaled by any other control panel.