UltraHosting Review Overview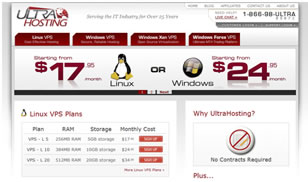 UltraHosting has been serving the IT industry for over 25 years. In that time they have become one of the largest VPS and dedicated hosting companies in the world. With over 70,000 square feet of data center buildings, they house thousands of servers for hundreds of thousands of customers.
UltraHosting offers a wide range of virtual private solutions to fill the needs of a wide variety of customers. Offering 6 options for linux VPS hosting alone, UltraHosting has been providing top level services to a large clientbase for years. With a host of included features as well as several additional options available, they have all the options anybody would need in a VPS host.
UltraHosting Review of Support
All of UltraHosting's plans come with 24/7 support included. They offer support by way of phone, live chat, and online support center. Their support team is incredibly knowledgable, many of whom have obtained various Unix, Linux, and Microsoft certifications. Called their "UltraSupport", their talented staff is always ready to help with customer needs.
UltraHosting Review of Control Panel
UltraHosting offers 2 control panel options, the latest versions of cPanel and Plesk. Two of the most popular control panels on the market today, they are easy to navigate and learn quickly. Their interfaces are simple and straightforward, and run quickly and efficiently.