HostMonster Review Overview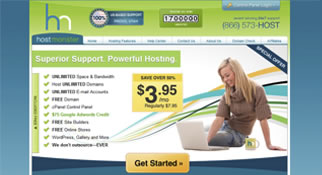 Hostmonster has been providing top quality hosting since 1996. They have grown to host over 1.5 million websites in that time. They've been able to thrive by offering customers hosting with high quality equipment, functional administrative tools, guaranteed uptime, all with honest business practices and customer service.
Hostmonster offers one shared hosting solution with all the standard features of a shared hosting account. Along with all the unlimited features expected, Hostmonster also includes a library of popular scripts available for installation through the control panel. They also offer a professional package at a cost which makes available to customers more server resources, increased security, and a host of other upgrades.
HostMonster Review of Support
As is expected from any top tier hosting company, Hostmonster offers 24/7 U.S. based support by way of toll free phone, online chat, or e-mail. They also provide an extensive online help center located on their website which includes a knowledgebase, a user forum, getting started video tutorials, as well as a support ticket system.
HostMonster Review of Ease of Use
Rather than offer an abundance of hosting options that often leave customers scratching their heads, Hostmonster offers one hosting package in an effort to keep things simple. This makes it much easier for customers, especially those new to web hosting, to understand what it is they are purchasing and what they can expect out of their hosting accounts.
HostMonster Review of Control Panel
Hostmonster offers the industry standard cPanel control panel. They include the full feature list and have also added in the SimpleScripts installer. This option allows customers to quickly and effortlessly install a wide veriety of popular scripts. cPanel's user friendlyness and feature list is unmatched by any other control panel in the market.