SuperGreen Review Overview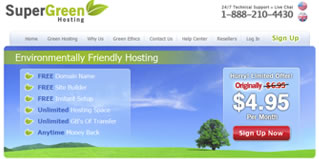 Super Green Hosting offers 100% carbon neutral friendly hosting at prices that are competitive to most other hosting companies in the industry. With an emphasis on reducing their carbon emissions and increaseing their energy efficiency, Super Green is seeking to change the way in which hosting companies run their services.
Super Green offers one shared hosting option with a host of unlimited features included. Also included is free instant activation so customers can get started working with their account right away. Also available is a reseller option for those looking to offer services to others without having to manage their own hardware. Their green hosting is a reliable alternative to other hosting options on the market today.
SuperGreen Review of Support
Super Green Hosting offers support 24/7 via phone, live chat, and email. They also offer a support center on their website with hosting related articles and video tutorials to help customers in the initial stages of their hosting. Their support is adequate with short wait times so customers can get the support they need in a timely manner.
SuperGreen Review of Green Energy
Many hosting companies are just getting into the idea of going green or offering green alternatives. The team at Super Green Hosting has emphasized the use of green energy from the start. Being one of the first green hosts in the industry, they continue to provide one of the greenest services available.
SuperGreen Review of Control Panel
Super Green Hosting offers the industry standard and industry leading cPanel control panel. cPanel is widely known throughout the hosting community as being the only control panel to use for its extensive feature list and incredible ease of use. Customers can feel comfortable knowing they will have the best cPanel in the industry.