VPSDepot Review Overview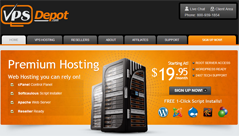 VPSDepot has been offering the best in reliable, budget virtual services since 2008. Their continued goal is to provide world class virtual private hosting at the most competitive prices on the market. This business plan has allowed VPSDepot to grow into a top VPS option, hosting thousands of business, professional, and personal websites.
VPSDepot has the most cost-effective packages in the virtual private market. They offer packages competitive to other companies, but they offer them at a more reasonable price. This in no way hinders their service. Server response time was snappy and with the optional cPanel and WHM package, the service was a breeze to navigate. Their ability to offer great services at a great price is why they are regarded as one of the best VPS options out there.
VPSDepot Review of Support
VPSDepot offers 24/7 support via phone, live chat, and e-mail ticket system. Their support is very knowledgable and can help quite a bit with the initial stages of the VPS. With so many options, it is comforting to have top-tier support available at any time to sort through getting the server up and running properly.
VPSDepot Control Panel
Perhaps the best part about VPSDepot's packages is that they all include cPanel and WHM to manage your virtual private server. These tools make it simple to create, manage, and maintain hosting accounts, as well as manage every other aspect of your virtual private server. Of course, if for some reason you choose not to use cPanel, VPSDepot can deploy a virtual private server with no control panel installed so that you can use your own.
To read more about VPSDepot, please visit VPSDepot.com