FatCow Review Overview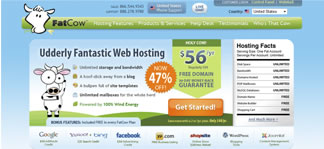 FatCow was established in 1998 by a group of hosting professionals intent on providing a quality alternative to the typical hosting experience. Trying to avoid overly technical and confusing pricing and packages, FatCow has sought to provide straightforward packages with a friendly approach to customer service. They strive to provide a service that is easy to own and easy to use.
True to their word, FatCow offers one shared hosting package that comes with unlimited disk space, bandwidth, email, and a multitude of other features. Paired with a full 30 day money back guarantee, anyone can feel comofrotable when signing up with FatCow. They also offer several additional products and features at a cost, such as site backups, SSL certificates, SEO services, and others to provide additional features to anyone who may need them.
FatCow Review of Support
FatCow's U.S. based "Moo Crew" is available 24/7 via phone, live chat, or e-mail so that you can get support in any way you see fit. They also offer a helpful user guide as well as tutorials to help customers get started with most every aspect of a hosting account. Certain packages come along with a personal support representative. This is especially helpful with more complex issues since you are always talking to the same individual.
FatCow Review of Simplicity
As stated previously, FatCow is intent on providing a service that is simple to use and simple to understand. They do not add features that most people would find unnecessary just to increase their pricing. These features are instead offered as addons in order to keep the prices low for the masses.
FatCow Review of Control Panel
FatCow offers vDeck Control Panel as their hosting control panel for clients. Although it is not as user friendly or intuitive as cPanel, vDeck still gets the job done. It has an integrated site builder with hundreds of templates so you don't need any HTML experience when creating your website. vDeck allows you to manage websites, email and domain names from one central location.