Omnis Review Overview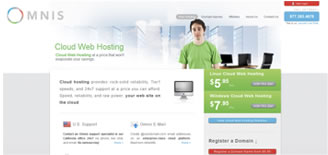 Omnis has been a leading member in the web hosting market since 1999. Currently hosting over 400,000 customers, they offer a wide variety of services to suit any need. Founded by a team of proven industry veterans, they strive to provide affordable, enterprise class web hosting services.
Omnis offers an array of cloud based linux and windows hosting options. Their cloud web hosting provides a solid and stable platform for personal and professional users alike. By providing both linux and windows based hosting solutions, Omnis encompases all areas of hosting desired. Their options allow for great flexibility when ordering a hosting account, without sacrificing reliability.
Omnis Review of Support
Based out of California, Omnis technical support is availabe 24/7 by phone, online chat, and email ticket system. They do not outsource any of their support. They have more than enough specialists to ensure that wait times are minimal and all issues are resolved quickly and correctly. Omnis also offers an online knowledgebase that covers the more common issues with web hosting accounts.
Omnis Review of Windows Hosting
Where Omnis truly shines is with their Windows based cloud hosting. An easy nod to top our list of best Windows hosts, they provide a rock solid and reliable platform for any customer who requires ASP or .NET framework. Couple this with their enterprise-class e-mail and any customer will have service capable of hosting a top class business or personal website.
Omnis Review of Control Panel
Althought Omnis does not offer the popular cPanel control panel, they do offer their proprietary control panel that is based off of the cPanel platform. This does not count against them in any way as they were able to take all the great features of cPanel and tailor it to their own hosting packages, meaning everything works very well together.