WebHostingPad Review Overview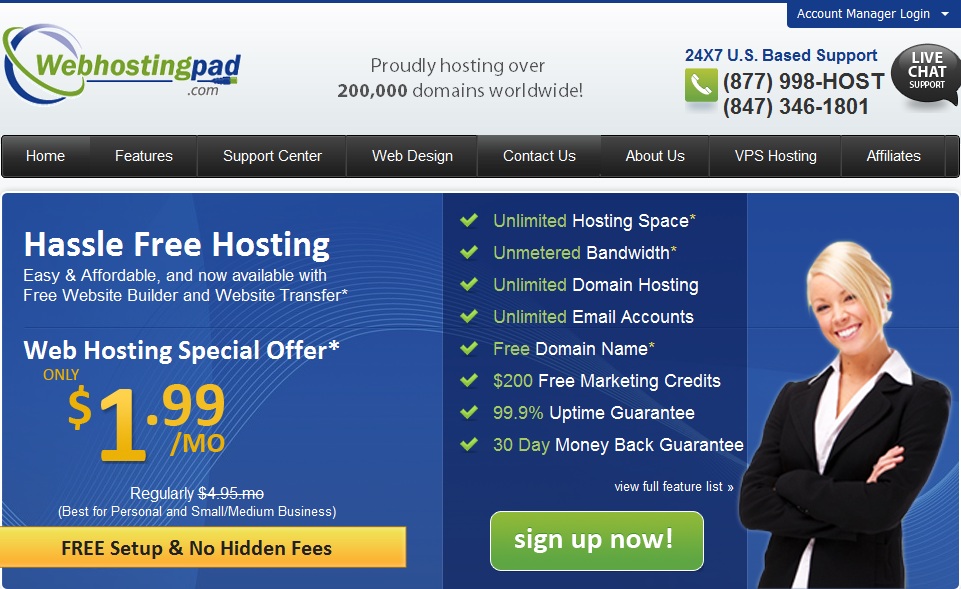 WebHostingPad.com has been in business since 2005. During that time they have grown to become one of the larger hosting companies available, hosting over 200,000 domain names. They boast one of the most comprehensive shared packages at the most affordable pricing you will find out there. With the packages they offer it is no surprise why they are so high on our list.
Just because they offer pricing as low as $1.99/mo, that does not mean that WebHostingPad.com skimps on features. In fact, they offer a wider variety of featuers than most other, more expensive companies do. With a host of unlimiteds and free marketing credits for Google, Yahoo, Facebook, and MyAds, WebHostingPad.com is a great choice for any customer, whether it be an individual looking to host a personal blog or a business looking for an e-commerce solution.
WebHostingPad Review on Support
WebHostingPad.com offers 24/7 U.S. based support by phone, live chat, or e-mail ticket system. They also have a large online knowledgebase directly on their website where all the most common issues are explained. Their support staff is knowledgeable and quick to respond to issues that customers may have. Just another reason why they are tops on our list.
WebHostingPad Review on Reliability
When comparing webhosts, you certainly need to take reliability and uptime into consideration.
WebHostingPad offers 99.9% uptime, which is about as good as it gets. That is the kind of reliability anybody should expect from a web hosting company. Our testing of their services reflected their 99.9% uptime as we rarely experienced any downtime, none of which was significant. It is comforting to know that even when there is an issue they are quickly resolved.
WebHostingPad Review of Control Panel
A big selling point for most hosting companies is the control panel it offers to clients. WebHostingPad offers cPanel, the most popular control panel there is in web hosting today. Its ease of use and feature list makes it stand out from any other control panel. Also included is the Softaculous script installer, allowing you to install all the most popular scripts such as WordPress, Joomla, Drupal, and more with one click of a button.
To read more about WebHostingPad, please visit WebHostingPad.com